First and foremost, welcome to the first of many art and design articles under the new brand, Designers' Darkroom!
Pay It Forward
I'd be foolish to think the world solely revolves around me and my art…
So, in true pay it forward fashion, I'm using this outlet to share my recent discoveries of other artists from around the world, whether their focus is acrylic painting, oil on canvas, sculpture, or fine art photography.
Let's Start with Abstract Art!
I love abstract art because it's so easy to interpret the meaning of the work in your own way. Abstract art can also be open-ended so the piece can be experienced differently with each passing glance.
A painting will speak to you, but you may not understand why till you've had some time to think about it. Maybe it's the vibrant color palette. Or its geometric shapes. Or the expression of a place you've recently visited. For whatever reason, this type of art is as mysterious as it is concrete.
And with that, enjoy these…
9 Works of Abstract Art You'll Fall in Love With
1. White Blossom Rainbow Tree by Helen Oprea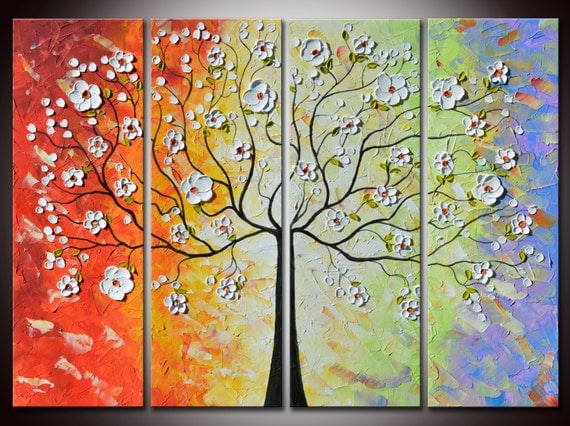 Helen paints contemporary abstract trees in a three dimensional way with pops of color and texture that is as delicate as a flower petal. Canvas splits add even more dimension to the style of her paintings.
She also paints landscapes and other natural scenes with the same technique; her focus is custom made art, so if you're looking to have something created that's one-of-a-kind for your space, go check out Helen's Flower Art Painting Etsy Shop.
2. Firewall by Philippe Sainte-Laudy
Philippe is a passionate landscape photographer with a blur technique unlike anything I've ever seen. Firewall is an abstract woodsy scene that incorporates natural light glowing like fire through a cluster of trees. One stands alone.
I simply love this artist's work.
3. Moonlit Harbor by Erin Ashley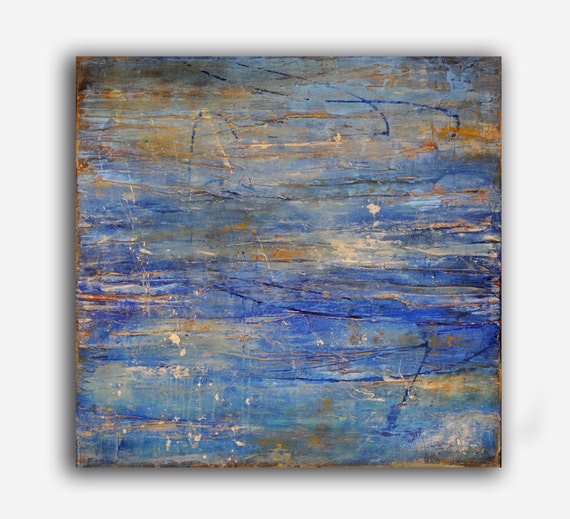 Moonlit Harbor's soft color palette and swirling strokes remind me of saltwater waves crashing against a wooden structure held together by rusted iron hardware.
Erin Ashley is internationally recognized for her work in contemporary art; she draws her inspiration from nature's way of beautifully weathering things.
In addition to owning the original, you may also find Erin's work available at some of the larger home decor stores like HomeGoods or Bed Bath and Beyond in a high-quality printed format.
4. elements 1 by Norunn Molsater
elements 1 draws me closer to mother earth with its organic, burnt sienna dirt that is slowly eroding because of the constant pounding flow from a waterfall.
Norunn, like many others in this list, gets her inspiration from nature and its tranquility.
5. October Sail by Osnat Tzadok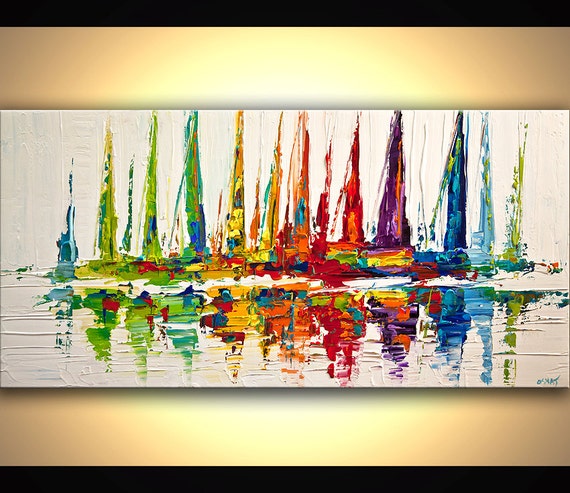 October Sail is an abstract piece that uses color to help you visualize its true meaning.
Its color palette is warm like Autumn. Orange, red, yellow, and a touch of green are used here to hint at the changing season. Shades of blue against rippled white reflections also help to keep the abstract sailboats grounded by giving the viewer a sense of water in the painting.
Osnat Tzadok's work can be unraveled by reading into the work's title; without that, you may see melted crayons or an audio waveform. Context is everything with Osnat's inspiration.
Simply brilliant!
6. My Teeth Itch by Greta Vick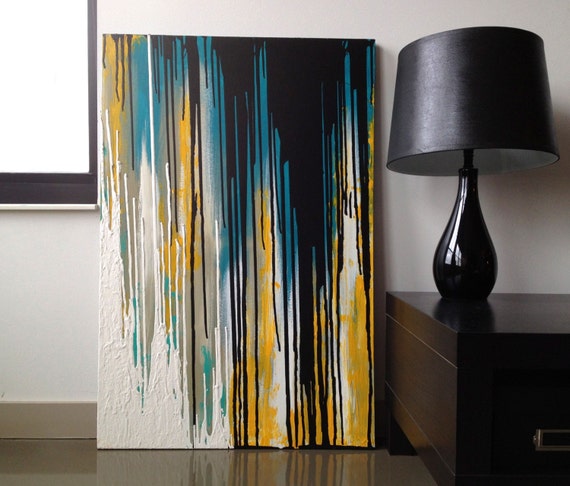 Inner balance and harmony are products of symmetry.
My Teeth Itch can be a symmetrical play on the constant force by Greta's new braces, where dark balances light and equal and opposing forces negate to create a harmonious balance, or simply put, straight teeth.
7. Beauty of the Soul by Henry Parsinia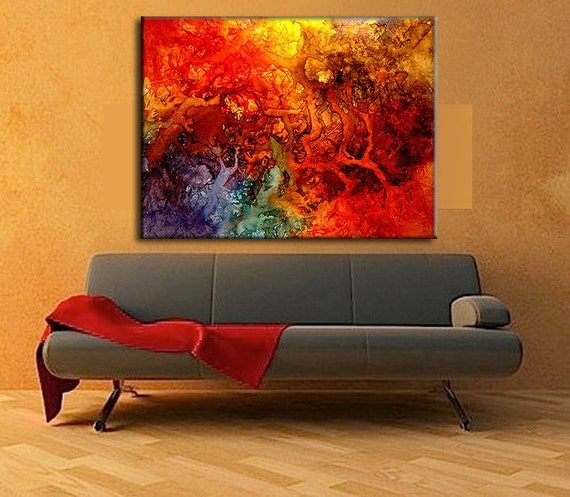 As a lover of color, Beauty of the Soul by Henry Parsinia really speaks to me. First impressions are usually right on, but this piece is so amorphous, you can get lost in it for a while and come out with a deeper meaning each time.
Initially, this piece displays some colorful swirls, similar to works by the legendary free-blown glassmaker, Dale Chilhuly.
Then it hit me, Beauty of the Soul also has metaphysical qualities. Could souls have arteries and veins? Maybe there's life after death after all.
8. Infinite Flare by Jeff Jagunich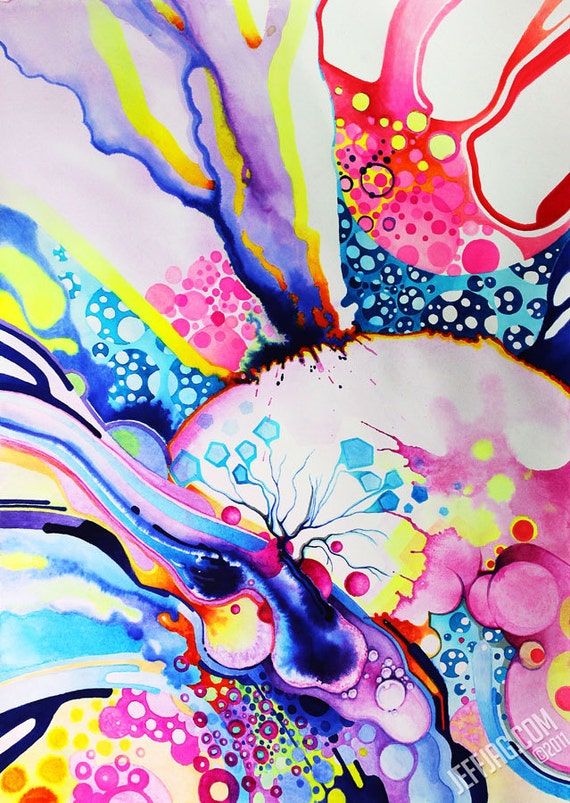 Infinite Flare is a watercolor abstract that represents biological cracks and veins to the artist while his wife sees a solar flare.
Look deeper though. Think beyond just biology. Think of beautifully translucent and vibrant jellyfish tentacles in bubbly saltwater.
9. abstract N° 797 by Koen Lybaert
Color in motion, blurred forms, and hard transitions come to life while defocusing my eyes. abstract N° 797 is reminiscent of a circus act with a colorful clown form in the center of the painting.
Koen just brought me back to a colorful and fun childhood even if that wasn't his intent.
A Quick Note About Copyrights
Each picture and associated artwork in this list is owned by the respective artist listed in the numbered heading. Images are hosted and linked from the originating website.
If doing so infringes on an individual's copyright, please send me an email and I will remove the image links associated with the text immediately.
Get Ready for Black & White Art
Next up… black & white art. See you in two weeks.